13 / 03 / 2023
Dental Implant Hygiene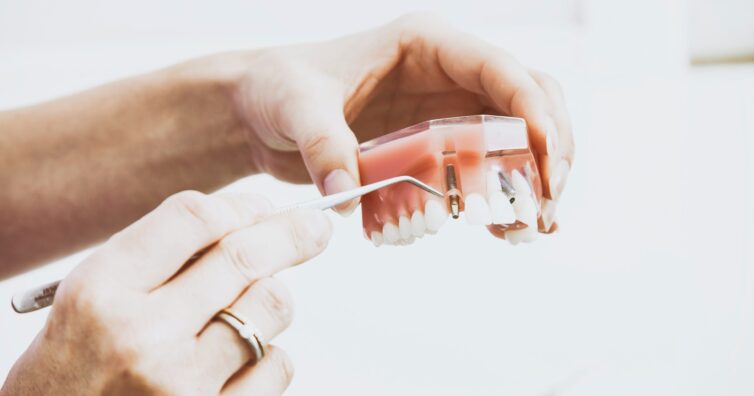 The success of dental implants
Dental Implants are a well-established treatment for the problem of missing teeth. Success rates for dental implants are extremely high providing patients engage with pre and post treatment advice.
Where do we start…
Achieving success starts with what happens prior to placing the implants. The hygienist is the gatekeeper for further treatment. Once the hygienist is happy the foundations are consistently stable, then the patient can consider an implant.
Why?
Because oral health optimisation is all about ensuring the optimal conditions for implant success.
Good Oral Hygiene
How well you look after your dental implants will have the biggest impact on longevity. You should maintain a meticulous daily oral hygiene routine including:
Brushing – twice a day for 2 minutes keeping the toothbrush at a 45-degree angle to the gum line. (You are gently brushing your gums as well as the tooth or implant surface) We would recommend brushing with an electric toothbrush.
Implant Floss – this is essential for maintaining implant health – this spongy floss can access underneath your implant crown to remove plaque and debris from the hardest to reach areas.
Interdental Brushes – for cleaning in-between natural teeth and implants.
Interspace brush – to clean around the base of the implant.
Healthy lifestyle
Smoking – nicotine in smoke constricts blood vessels and reduces blood flow to the soft tissues, which can affect the immune response. Smoking restricts and slows the process of healing dramatically and affects the long-term health of the gums and bone. This is a significant risk factor for peri-implantitis which can lead to implant failure.
Medical Conditions – existing medical conditions can affect the viability of dental implant treatment. It is important to discuss your medical history and all the risks and benefits with your implant dentist.
Periodontal Disease – is a significant cause of dental implant failure. Periodontal disease MUST be treated prior to implant treatment. Patients with a history of periodontal disease will be considered elevated risk of developing implant problems.
Dental Recalls
Hygienist – Lifelong care after dental implants is especially important – it is essential we maintain optimal conditions. We recommend seeing a hygienist every 3-6 months for implant maintenance. This includes checking the health of the implant, giving advice on achieving excellent oral hygiene and professional cleaning of your teeth and implants.
Dentist – you will need to continue seeing your dentist for routine oral health checks.
Blog by Rebecca Adey
Back to Blog