15 / 11 / 2023
Mouth Cancer Action Month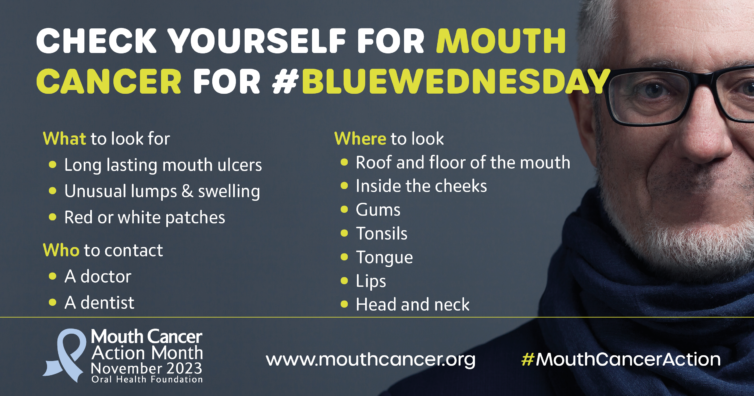 At Seaham Smiles, we believe in not only providing first class dental care but also in promoting awareness about crucial oral health issues. This November, we're dedicating our blog to Mouth Cancer Action Month, shedding light on the importance of early detection, prevention, and the role that regular dental check-ups play in safeguarding your oral health.
Mouth cancer, also known as oral cancer, can affect the lips, tongue, cheeks, and throat. It is a serious condition that can have a significant impact on your overall health if not detected and treated early. Smoking, excessive alcohol consumption, poor oral hygiene, and the human papillomavirus (HPV) are among the risk factors associated with mouth cancer.
By spotting mouth cancer early, we have a much better chance of beating it. With early diagnosis, the chances of surviving mouth cancer are nine out of ten – those odds are pretty good, and that's why knowing what to look out for is so important.
Sadly, far too many mouth cancers are not spotted early enough. Most importantly, if you notice anything out of the ordinary, it is essential that you tell your dentist or doctor immediately.
A simple mouth cancer check you can do at home
A mouth cancer check can be done at home and it takes less than one minute. It is a good idea to get into the habit of regularly checking yourself for the early signs of mouth cancer, especially in the time between dental visits. Take the time to perform a self check for mouth cancer every month.
Here's a step-by-step guide for doing a mouth cancer check at home. If you're unable to secure a dentist appointment, as a final option, you can perform a self-check at home. However, it's important to note that this DIY assessment falls short of the thorough examination that a dental professional can provide.
Regular dental check-ups are not just about maintaining a bright smile; they also play a crucial role in the early detection of oral health issues, including mouth cancer. During your routine dental appointments at Seaham Smiles, our experienced team conducts thorough examinations to identify any abnormalities or signs of concern.
Prevention is key when it comes to oral cancer. Adopting a healthy lifestyle, including quitting smoking, limiting alcohol intake, and maintaining good oral hygiene, can significantly reduce your risk. Additionally, practicing safe sun exposure and being aware of your overall health can contribute to preventing this potentially life-threatening condition.
Remember, early detection saves lives. If you have any concerns or questions about your oral health, don't hesitate to contact Seaham Smiles.
– Information and video on this blog post is found on Mouth Cancer Action Month: How to spot mouth cancer (dentalhealth.org)
Back to Blog