Dental Tissue Graft, Composite Bonding & Teeth Whitening
This patient recently underwent orthodontic treatment at another practice but desired a final touch to perfect her smile.
Step one involved Nigel, our skilled principal dentist, performing a gum graft around the patient's upper left central incisor. This procedure brought the gum down so it aligns with the adjacent teeth and ensured a harmonious smile design.
Dr. Hetherington, then stepped in to take the patient's smile to the next level. Through professional teeth whitening, her pearly whites were beautifully brightened, exuding confidence and radiance! To complete the smile transformation, Dr. Hetherington utilized composite bonding, an artful technique that expertly reshaped and enhanced the appearance of the patient's teeth. The result? A stunning, seamless smile that she had always dreamed of! 
Before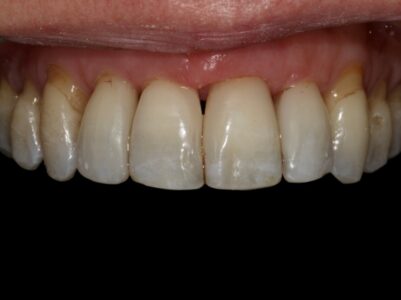 After
Back to Smile Gallery